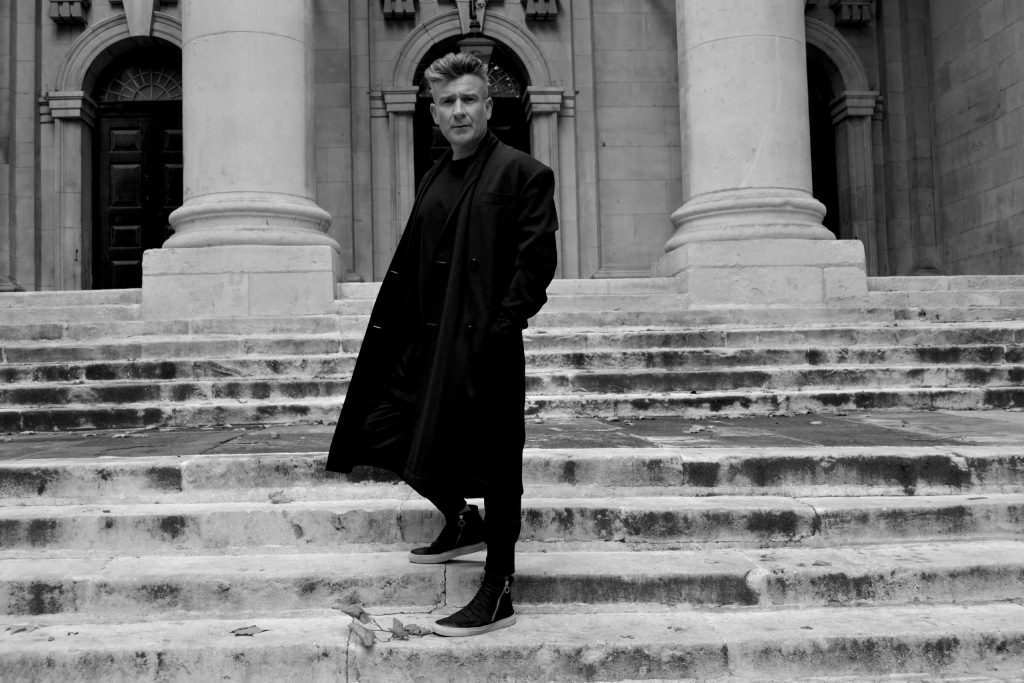 As a young child, growing up in the 1970s, Dean Aslett's grandmother, Vera  and Aunt Josie ran Children's Dance Schools in Brixton & Streatham, South London. Recognising Dean's love for singing, Dean and his twin brother, Gavin
regularly appeared in their shows held in  venues such as Battersea Town Hall and the Lambeth Civic Centre. So it's here where Dean developed his love of performance.
Dean developed a love for el
ectronic music from a very young age. His twin brother Gavin (as an eight year old child) bought a LP album, "Out of This World" by the BBC Radiophonic Workshop in 1979. This record introduced Dean to electronic music and very soon after, composers like Ennio Morricone (Chai Mai, The Mission, Cinema Paradiso), Jerry Goldsmith (Alien, The Omen), producers like Brian Eno (David Bowie, Talking Heads) and Bob Clearmountain (Bryan Ferry, David Bowie & Simple Minds) started to appeal to Dean as his formative years progressed.
Teen Years
Dean started playing piano & organ when he was eleven years of age. His teenage years were spent growing up in the 1980s so it's fair to say the music from that
era had a major impact on the style of what Dean does, even now!
Dean grew up in Croydon, South London – "I know it always gets a bad rap now but I had a great time growing up there. I immersed myself in music from the late 70s onwards. New Wave was a particular influence on me throughout this period to the
late 80s. I absorbed a lot of music fro this period to start with – David Bowie, Roxy Music, Blondie, David Sylvian, Duran Duran, Visage, Soft Cell, Ultravox, The Cure & The Cult etc."
Many of Dean's friends shared the same love for music, fashion growing up and there were some great places to go – Croydon Indoor Market which was very fashionista, eclectic second hand cloth stalls mixed with young designer talent. "It was very much of that time like Kensington Market or Camden Market in the 80s and I met a lot people who shared similar interests in fashion, music and going out. There were a few influential haunts in Croydon, The Swamp and Underground but really we all wanted to be up in the West End, going out clubbing!"
"Clubbing was a major influence from the time I started going out in the mid 80s. I was going up clubs in West End at very young age 14. My parents were very soc
ial – always out or at home entertaining friends & family. I came from a large family so it was easy to sneak out. Catch the 68 or 109 bus from South Croydon up to London. Visit The Camden Palace, The Playground, listening to new music trends – rare groove at- The Wag, Opera House in Soho with Phil Salon, Discotheque on Tottenham Court Road, The Limelight in Shaftsbury Avenue then moving on to early Acid House – Spectrum, Heaven, Palm Beach, The Fridge – Daisy Chain, Kinky Gerlinky, Crazy Larry's, Trade and Ziggys in Streatham before the emergence of Subterranea, Double Bass, Wall Street and L'Equipe Anglais, The Atlantic and Billion Dollar Babes with club promoters Steve Strange and Jeanette Caliva throughout the 80s/90s – the music at these clubs had a major influence on me -everything from Frankie Knuckles, Paul Oakenfel
d, William Orbit, Nicky Holloway & Andy Weatherall."
"I always felt very attached to the capital London. Mainly because I had vivid memories of going up there regularly as a child working as child model. The smell of the the dirty Underground always remained with me and reminded me of London. And then I moved up nearer to Central London in my 20s, living in the Royal Borough of Chelsea and in Battersea mainly."
The early years of Quiet Storm…
"I purchased a KORG POLY800 synthesiser in 1984. It was around this time that I also became friends with John Harlow (RIP 1968 – 2013). We had similar musical tastes and we'd end up at each other's houses regularly in South Croydon listening to the music we adored. John was also a keen musician, playing keyboards like myself. It wasn't before long that in the summer of 1985, we created our first musical endeavour, a five piece rock band, Clockwork Orange, performing our own songs with performances at local schools and clubs." The band dispersed a year later in the autumn of 1986. This band line up included Steve Emney (a school friend, drummer & later my producer) of whom I lost touch with for the next 30 years until 2016…
However, Dean continu
ed to write songs under the name, Quiet Storm. "I adopted the name from a club of the same name that ran in Mayfair, London from 1989 – 1991. Many of my songs were inspired by the island of Mykonos, Greece since my first visit in 1988 and the island became of great significance to the development of Quiet Storm over the years with the advancement of dance music in the late 80s/90s. I suppose I was always adapt and prolific in writing and creating songs but not so much performing the songs live and promoting the material in front of a live audience but more lately, I play live a lot, lot more. You have to ring the bells of change!"
"I quit my job in the fashion business a few years ago to concentrate on developing my musical career full-time and based myself on the island of Mykonos to prepare my first album."
"I worked on a wealth of material, old and new, creating a portfolio of polished demos – around 27 tracks. I returned to the UK to work with producer Jack Ruston in Brighton where I took the project in a different direction, developing a 10 track album with a new sound and then Steve Emney who is based on the Mediterranean island of Malta took over the project to produce, mix and master the album which was delivered in the Autumn of the same year."
AudioFreaks Music in the UK Act as my UK Promotion Team (headed by Matt Meyers and Roxanne Woodcock) since 2019 who have succeeded in driving QUIET STORM's first 4 singles LADY SHOW ME, I COULD ALMOST CRY, YOU MAKE ME SHUDDER & YOUR WORLD to consecutive Music Week UK Top 10 Chart positions. As of March 2021, QUIET STORM are now signed to #1 US Dance Label, 418 Music headed by Gino Carpone & ToCo Records in Hong Kong, Asia. See Forbes Article, https://www.forbes.com/sites/markbeech/2019/02/18/how-indie-company-418-music-beat-taylor-swift-katy-perry-labels/?fbclid=IwAR0rMC_FL7EccvPbDG6JLEXKZSKUVfOsS7lMZ2v24e_cyqqmms5JhhsIPJ8#7ebecd941c15