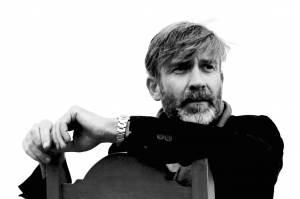 First interview in four years with Quiet Storm (aka Dean Aslett) talking about his  hit track 'Lady Show Me' and what's in store for the future.
'Lady Show Me' has achieved amazing success and hit Number 8 in the Commercial Pop Charts sandwiched between artists such as Madonna, Pink, David Guetta and sparring partner to Lady Gaga, Amy Winehouse & Duran Duran, producer Mark Ronson.
Xposed Vocals NYC catches up with QUIET STORM aka Dean Aslett at Cibo Restaurant in Russell Gardens, London W12.
Xposed Vocals: So tell us your story. Where did you grow up?
Quiet Storm: Croydon, South London as a child to young adult. I know Croydon always gets a bad rap now but I had a great time growing up there. I immersed myself in music from the late 70s onwards. New Wave was a particular influence on me throughout this period to the early 80s. I absorbed a lot of music fro this period to start with – David Bowie, Roxy Music, Blondie, David Sylvian, Duran Duran, Visage, Soft Cell, Ultravox, The Cure & The Cult etc. But by the late 80s (with my introduction/immersion in to Mykonos culture) I became heavily into Euro Pop & Dance Music.
Many of my friends shared the same love for music, fashion growing up and in my teens there were some great places to go – Croydon Indoor Market which was very fashionista, eclectic second hand cloth stalls mixed with young designer talent, it was very much of that time like Kensington Market or Camden Market in the 80s and I met a lot people who shared similar interests in fashion, music and going out. There were a few influential haunts in Croydon, The Swamp and Tbe Underground but really we all wanted to be up in the West End, going out clubbing! I also had a Saturday job when i was 17 in 1988, up town working as a sales assistant in Jones, Floral Street, Covent Garden (one of the first multi brand designer fashion stores) selling Jean Paul Gaultier, Thierry Mugler, Commes des Garcons, Yohji Yamamoto etc
Xposed Vocals: What made you decide to become an artist?
Quiet Storm: Namely, the album Bryan Ferry released in 1985, Boys & Girls. I  played it incessantly. It had a huge impact on me.
Xposed Vocals: How did you come up with that name? What was your inspiration behind it?
Quiet Storm: I was working a junior assistant (19 years of age 1989) for Antony Price at his Couture showroom in Brook Street (bang opposite Claridges), Mayfair, London when Graham Ball, a club promoter came in and invited me to his new club called QUIET STORM. I loved it there. It played eclectic soulful dance stuff, really cool. Alas, the club closed in 1991 but I loved the name, QUIET STORM  and it stuck with me ever since. I have a Daily Express (British Newspaper) interview by David Wigg (showbiz correspondent) who wrote a tiny piece about my band, QUIET STORM in 1992 to prove it if anyone thinks otherwise, as since then, there's a few business out there with the same name.  I don't mind, it never stopped OASIS! (there is a beverage company called Oasis and also a ladies' fashion brand)
Xposed Vocals: What do you think about online music sharing? Do you ever give your music away for free? Why?
Quiet Storm: If you're a new act trying to build a profile, you have to get yourself out there. It's vital. People have told me the dangers but music sharing has always been there in the ANALOG (pre digital age) as well with bootlegs etc. I think you you just have to go with it. You will have ups and downs along the way but you should put yourself out there and be shameless. There are no rules and regulations in the "Pop" world.
Xposed Vocals: Since everyone was a start-up once, can you give any smaller or local bands or artists looking to get gigs and airplay some tips?
Quiet Storm: Take your time to get the best product you can do. Choose your producer wisely for sure! And keep going!!!! Lady Gaga's famous quote, "it only takes one person out of a thousand to notice you"  is true. She was right. AudioFreaks noticed me, believed in me and then rooted for me and now I have a UK Top 10 hit. AMAZING! Pray continue!!!
Xposed Vocals: Do you ever make mistakes during performances? How do you handle that?
Quiet Storm: There's been deeply embarrassing moments (TOUCH WOOD) but not so much now as I only do PAs with live vocals and maybe live guitar.
Xposed Vocals: Do you tour? Anything interesting happen on tour that you think our readers would enjoy hearing about?
Quiet Storm: Well my PA performances in Mykonos sometimes incorporate drag queens to help support me! I did a lot of gigs in London earlier this year at venues like the Royal Vauxhall.
Xposed Vocals: Where do you usually gather songwriting inspiration? What is your usual songwriting process?
Quiet Storm: Well, I always carry a little book, just to catch words, phrases and jot them down. I like to write in the evening mainly as it's more mysterious and has atmosphere. I write on Garageband on my Mac now and just plug a keyboard, drum machine and mic and just groove in to it. The simpler the process to write, the better for me. My guitarist Matt may then come round and we try out a few ideas with him jamming. Sometimes nothing happens but when it does, it usually happens really fast and we can have the outline of a song together (rough sketch) in 5 minutes. I then usually work on the lyrics and refine melody afterwards. But I don't labour over melodies for too long. If it's not sounding natural then it is never going to work. Lyrics though can be a real pain and take forever. One song took me 15 years to complete the lyrics!!!
I then work up the songs to a point where I have done all I can before handing them over to Steve Emney, my producer who dismantles them and we either re model them or re build them from scratch. So a song may go through three evolutions before it is finished. Take "Lady Show Me", that song went through about 10 evolutions over 29 years!
Xposed Vocals: Do you have a band website? What online platforms do you use to share your music?
Quiet Storm: For sure, quietstormusic.com (one "m")
Xposed Vocals: What are some really embarrassing songs that we might find on your mp3 player?
Quiet Storm: I don't have an MP3 player. I'm not a massive fan of the format as it has a tendency to squash/compress the music too much.But embarrassing songs, I don't know if it's embarrassing but the first record I bought as a seven year old child was "Let's have a quiet night In" by David Soul. LOL!
Xposed Vocals: If you were given half a million dollars and a year off, what would you do? How would you spend it?
Quiet Storm: I am happiest when I am making records so I'd be back in the studio in a heartbeat.
Xposed Vocals: Any planned studio upgrades? What are you working with now?
Quiet Storm: Logic pro mainly now. We are always looking at new equipment. My producer has to hide them from his Mrs (it's like her hiding Christian Louibiton shoes and Givenchy handbags from him) LOL.
Xposed Vocals: How do you find ways to promote your music? What works best for you?
Quiet Storm: I have a wonderful music promotion company called AudiFreaks who put heat on the record in a major way.  Not only have they promoted the record, they completed a strong remix package with contributions from DASCO, ferKKo and Soulshaker as well as our own mixes. For "Lady Show Me", I am personally trying to meet every DJ at every bar, club in Mykonos (I have been back and forth all summer) to get it played. I even gave it to a SuperMarket opposite Mykonos airport because they always play chill out music in there. The record gains it's commercial international release on Friday 6th September 2019! It is licenced to three record labels across three territories – Tazmani Records (USA), Made2Dance (Northern Europe) & Clippers Sounds (Spain/Ibiza)
Xposed Vocals: If you could perform anywhere and with any artists (Dead or Alive) where and who would it be with? Why?
Quiet Storm: Oh I don't know. Probably Modern Talking -they make me smile!!!
Xposed Vocals: So, what's next? Any new upcoming projects that you want to talk about?
Quiet Storm: Well, I had two failed attempts to release the 1st album back in 2015 and 2016. Since then, it had just been gathering dust on the shelf. However, I have recently gone back to the sessions and we are in the process of remixing the 1st album for a re release hopefully next year. People ask me why release "Lady Show Me" again. Why not one of my other songs?" Call it intuition or bloody mindedness but I always believed "Lady Show Me" would be the break through 1st song.
Xposed Vocals: If you weren't making music, what would you be doing?
Quiet Storm: I spend all my spare time in the garden and have green fingers now.
Xposed Vocals: Do you remember buying your first album? Who was it? What was going through your head?
Quiet Storm: "Dance" by Gary Numan (I was eleven back in 1981)  I loved the cinematic slant to that album. My brother had his previous one, "Telekon" in 1980, the year before which was a lot darker in tone and was equally adored.
Xposed Vocals: How do you juggle the rest of your responsibilities while trying to stay ahead in your music life?
Quiet Storm: Just try to be as organised as possible. "Don't leave to tomorrow what you can do today!"
Xposed Vocals: What should fans look forward to in 2019?
Quiet Storm: We start a Club/Radio campaign towards the end of this year for a second single called, "I Could Almost Cry Now".  We aim to release it internationally in Spring 2020. As well this and the debut album, I have been writing a follow up second album. I started work on it back in 2016, immediately after finishing the first one. It started out being recorded quite modestly at a small studio in West London. This was intentional as the 1st album was recorded across various countries in Europe. That may sound glamorous but in the end the amount of travel became a sophisticated way of torturing myself. I originally thought that it would be a very fast record to make, a short sprint but what seems to my natural process now is to keep refining things. It has swung in so many different directions. I suppose that's the nightmare of modern technology in music – there's just endless possibility. However, there is a light at the end of the tunnel and the recording sessions are more or less completed before we begin the next stage of production & mixing, so time will tell…